Mascots were quite dull until Dave Raymond came along. He changed that, winning friends and an enemy along the way.
You probably know Dave Raymond. Or, at least, if you've paid any attention to sport and particularly American sport over the last 40 years or so, you know Dave Raymond's work.
Not on the field, though: just to the side. For 15 years, Raymond was the man inside the suit of the Phanatic, the Philadelphia Phillies anarchic giant green mascot, the mascot upon whom most mascots since have been based. And after hanging up the furry suit, Raymond became essentially a mascot consultant: the chances are that if you've heard of a mascot in North American sports, hes the brains behind it.
And as with so many of these things, it all started accidentally. After graduating from college he took an internship with the Philadelphia Phillies, where he worked for the promotion and marketing department. One day, he was asked to take on a slightly different part of the job.
They didnt tell me what they wanted me to do right away, he says. They kind of explained it briefly and told me I needed to go to New York to get fitted for the costume. And I was kind of confused, like: What do you mean? Well, the mascot, they said, but they were not really definitive about what was happening. I thought: Well, maybe if I do whatever it is they ask me to do, then Ill show them I would be a valuable employee.
And so began his life as the Phanatic, a colossal Muppet with an almost spherical belly and an airhorn-shaped nose. When Raymond started, mascots werent really what they are today, generally more staid characters who didnt really do a huge amount. They were pretty much lumbering, big-headed, cumbersome mascots that didnt move around a lot: they would wave and take photographs, and then disappear.
Raymond changed all of that. The Phanatics personality was really a mash-up of the typical Phillies fan and Three Stooges/Daffy Duck-style slapstick comedy. I wanted it to be frenetic because he looked big and heavy, so if I was frenetic and nimble, which I knew I could do in the costume because it wasnt that cumbersome, that I would surprise everyone.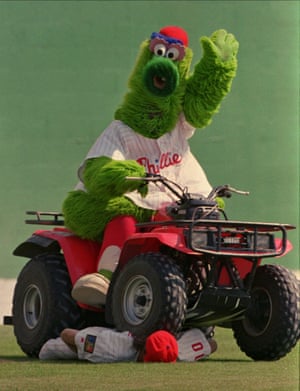 Original: https://www.theguardian.com/sport/2019/nov/11/the-man-who-changed-the-world-of-sports-mascots-forever
_________________________________________________________________________________
This post appears for General Information Purposes Only. No claim to ownership of the underlying intellectual property is made.